Don't get me wrong, I'm in love with this series. But lately I haven't been able to find the perfect 5 star book. 
---
All of my reviews are made to be as spoiler free as possible.
(However, if you haven't read the first book, there may be spoilers here!)
SYNOPSIS:
From Goodreads: 
"We were in the square, in the square where I'd run, holding her, carrying her, telling her to stay alive, stay alive till we got safe, till we got to Haven so I could save her – But there weren't no safety, no safety at all, there was just him and his men…"
Fleeing before a relentless army, Todd has carried a desperately wounded Viola right into the hands of their worst enemy, Mayor Prentiss. Immediately separated from Viola and imprisoned, Todd is forced to learn the ways of the Mayor's new order. But what secrets are hiding just outside of town? And where is Viola? Is she even still alive? And who are the mysterious Answer? And then, one day, the bombs begin to explode…
MY RATING:
Rating: 4 Stars (out of 5)
Slammed Tables? None, but I did cry about the same amount as I did in the previous book.
MY THOUGHTS:

 
Seeing as I immediately started this audiobook after the first, I had high hopes. And they were met!
I didn't slam any tables, but that's only because I was in shock. 
This book was, in a lot of ways, different from The Knife of Never Letting Go. For the most part, it was slower, darker, and relied more on character building than action. 
Now that I think about it, this book had a lot less going on when it comes to travel and similar things. The characters mostly stayed where they began from the beginning of the book, so this book contained a lot of internal conflict, plot twists, and suspense. 
And because of that, I felt like there was a bit more at stake. Now that we know more about Todd, Viola, and even Davy, we can feel more for them because of what we've seen them go through. 
Again, there were a few parts in the middle when I wasn't paying attention much, but I'm pretty sure that's my fault. However, the story really began to pick up in the last 10 or so chapters. I won't say much about this, except that so much happened towards the end that it made up for the parts which were not as action-packed or surprising in general.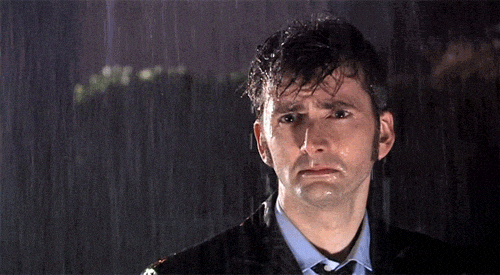 And once again, something sad happened at the end! Apparently, I still have not learned my lesson.
Never trust Patrick Ness, I suppose.
My thoughts on characters: 
Todd: Can I just hug Todd? He needs a hug, or ten. I liked him even more in this installment. 
Viola: As I predicted, I cared more about Viola in this book than I did in the previous one. She needs hugs too. In addition to Nick Podehl's narration for Todd's POV, Angela Dowe also did a nice job with Viola's POV this time. 
Davy: He doesn't get a POV or anything, I just wanted to point out that he got some character development. Good job, Davy. He gets a fist bump. 5 STARS, DAVY. 
Lee: I support him.  
Angharrad (the horse): I think we all know why this horse was in the book.
I'm a bit nervous for Monsters of Men, mainly for 2 reasons: 
The series will be over!
Monsters of Men has… 3 Points of View? Who is this other character?? That's a lot for me. That also means I get to hear even less from Todd.

 😦 
But we'll see how it goes.
---
You can also be my friend on Goodreads! 
Happy reading, everyone! 😀