Despite the fact that Newt Scamander is a tall, fictional male character born in the late 1890s and I am a small, very real girl born in the late 1990s, I think it's time we discussed our similarities. 
A few months ago, I made a post about the fact that I may or may not be Harry Potter. (I mean, of course I'm not, but the post was Reasons Why I Am Basically Harry Potter and y'all joked I may actually be him. As if I could be that cool.)
And now, before anything else tragic happens to the Fantastic Beasts series, like please, JKR, don't ruin my precious Newt, I would like to present this post to you, with all of the evidence out on the table.
---
We like to smuggle cute animals.
Perhaps you thought I meant "snuggle", but nope, you read that correctly.
Last year, while at college, I was part of my university's Cat Club. On our campus, there are a lot of stray cats which wound up living with us, and as a club, we basically just… fed them, and pet them whenever we wanted. The cats are super friendly, and I just love cats, okay?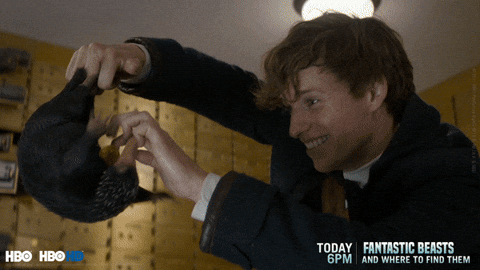 But also last year, my dorm room was on the first floor of the building, and the doors led to the outside, right where my favorite cats liked to sleep.
Every once in a while, but especially during the winter, my roommate and I would let one of the cats into our room. I don't know about your school rules, but this is a big no no for us! Why? I'm not sure, but these kitties are just too sweet to pass up the opportunity.
Sometimes, my favorite cat (his name is Bowie) would stay in our room for hours, until it was finally time to go to bed. And one time he actually spent the night with us, because we fell asleep before we could let him out! (I mean, he also didn't complain about this at all! He just went with it, like sleepovers were his norm.)
So yes, I do in fact like to smuggle animals.
We sometimes like animals more than people, and no, we're not ashamed.
I don't know about you, but I've never missed an opportunity to smile at a dog or cat, or even a small chubby bird. If I see an animal on the street, I'll immidiately start beaming at it like an idiot, and hope to get close enough to pet it or just wave and say, "Hello!" 
Yes, you read that right. I like to say "hello" to animals. That's normal, isn't it? Do y'all ever do this? 
And people? I don't do that with people. *shrugs* Only my friends get that privilege. 

We're generally quiet, but actually have good advice.
"My philosophy is that worrying means you suffer twice."

Newt Scamander, Fantastic Beasts and Where to Find Them
I've never been in a relationship before, but I swear, sometimes my friends will come to me for advice and I'll be able to talk them out of all their worries and suspicions. Am I… a secret advice whisperer? Maybe.
It's actually weird that I often have bouts of advice, since I rarely listen to it myself. But I try my best!
We're both cute.
That's it, we don't even have to dispute this.
I'm kidding! But you'll just have to take my word for it, though.
How do you even talk to someone you like? Neither of us knows.
One of the few things I remember from The Crimes of Grindelwald was that it took Newt several days to track down and talk to Tina, and like… I feel that. 
If I ever find a guy I want to talk to, um… what am I supposed to do?? I went to an all girls school for four years and now I'm just… afraid of guys? How do you talk to them, teach me your ways.
But I would also be totally fine with just running away from my feelings with a bunch of animals in my bag. That sounds great to me.
Other random coincidental reasons:
The other day I accidentally quoted Newt with the "worrying means you suffer twice" saying, and I thought I was giving myself some good advice from the heart, but nope, I was accidentally quoting one of my faves!
My fashion choices also change every few months. And I love navy blue!
I'm also very quiet and shy, but I love adventure, and I love visiting New York City!
Although I'm 1000% an introvert, I always seem to become friends with extroverts… 🤔
I'm writing a book! And only my favorite people in the world will have access to it when I want them to.
I have a sister, and we're pretty different from each other, but we're close and we love each other anyway. And I would do anything to save her from danger!
The suitcase in the header image was provided by: Free Vector Graphics by www.Vecteezy.com
Do you have anything in common with me or Newt? Are there any fictional characters you closely identify with, and why?
Chat with me about it!
---
You can also be my friend on Goodreads! 📚
Happy reading, everyone! 🙂