I read/listened to this series in one month and it completely destroyed me (and I absolutely loved it).
---
All of my reviews are made to be as spoiler free as possible.
(However, if you haven't read the first and second book, there may be spoilers here! Go do that. I will kind of give a away a couple of things from book 2.)
SYNOPSIS: 
From Goodreads: 
As a world-ending war surges to life around them, Todd and Viola face monstrous decisions. The indigenous Spackle, thinking and acting as one, have mobilized to avenge their murdered people. Ruthless human leaders prepare to defend their factions at all costs, even as a convoy of new settlers approaches. And as the ceaseless Noise lays all thoughts bare, the projected will of the few threatens to overwhelm the desperate desire of the many.

The consequences of each action, each word, are unspeakably vast: To follow a tyrant or a terrorist? To save the life of the one you love most or thousands of strangers? To believe in redemption or assume it is lost? Becoming adults amid the turmoil, Todd and Viola question all they have known, racing through horror and outrage toward a shocking finale.
MY THOUGHTS:
This book began right where we left off from The Ask and The Answer. When I first picked up this (audio)book, I couldn't help but realize how large it was. 643 pages? 14.5 hours? That's just so long. The longest book I've experienced in years!
Luckily, I was fully invested in Todd and Viola's journey and I refused to let the sheer volume of this book get to me.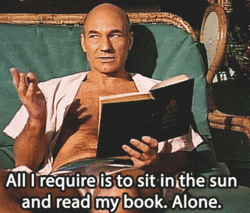 Just as I suspected, the first thing I partially disliked about this book was the new, third POV. Because I was listening to this book on audio, a new character voice made a big difference! I found myself not completely paying attention to these chapters, mostly because a lot of the ones in the beginning half had little to do with Todd or Viola (who are my honorary children). Seeing things from this new perspective was interesting, but it felt a bit stretched out at times. I'm pretty sure some of it could have been condensed, in order to make this book a bit shorter.
Actually, a lot of this book could have been shortened! That being said, I loved just about every minute of Todd and Viola's chapters, even though most of the time they were not together. I didn't feel like any of their POVs needed to be cut out although maybe that's just my motherly instincts trying to give them the love they deserve.
For most of the plot, there was some kind of battle going on, and there were often times where it felt like someone was going to die. Not any one character in particular, but it felt like Patrick Ness was trying to get me on the edge of my seat at all times. And it totally worked. 
I was constantly worried about what would happen next, and there were several plot twists that I did not see coming! Although this book was (maybe) just a little too long, I think that after all that's happened since The Knife of Never Letting Go, this book made it worth it.
In the end, I enjoyed seeing Todd and Viola in this last installment, and I also enjoyed learning more about the other (new and old) characters. I would be lying if I said this plot and writing were perfect, but at this point, I was just wishing and hoping that everything would just wrap up nicely before the book was over.
Maybe another reason why it took me so long to read this was because I didn't want it to end, and I didn't want my feelings hurt. In every Patrick Ness book that I read before this one (Chaos Walking #1 and #2, and A Monster Calls), something just has to happen and I end up crying. Maybe I was hoping it wouldn't happen again. But who was I kidding? This book just tore me apart. 
me, drowning in tears: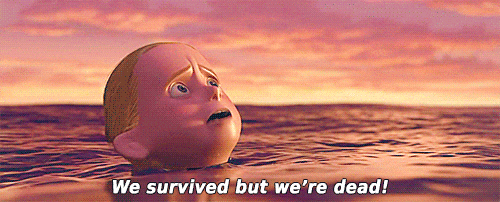 Here's a list of statements that went through my mind upon finishing: 
I have never been more betrayed in my life (nope, not even in book 1 or book 2).

 

Will I ever recover? Will I really ever recover?

 

My life will never be the same, that's for sure.

 

PATRICK NESS, WHO HURT YOU?

 
and finally, 
Thoughts on characters: 
Todd: I just really love Todd, okay? Todd deserves everything good, and I think he's now one of my favorite YA characters. I'm just so proud of him. I was a bit worried about his *behavior* towards Mayor President Prentiss for a bit, but Todd always finds a way to be himself. (Once again, the narrators Nick Podehl and Angela Dowe did a great job at voicing Todd and Viola for this audiobook.)
Viola: Viola is an emotionally strong character, and I love that about her. This might sound unrelated, but I really loved how her dialogue was mixed in with Todd's, and vice versa. It made them seem more together, even though they spent a lot of the book apart.
Mayor Prentiss: Well, at least he's not Aaron! I mean, I can't really say that much more about him, but I could probably give you the opposite of a spoiler-free rant.
The Return (aka 1017): You know, I'm not really sure how to describe how I feel about 1017. I rarely liked his scenes, and at first I was confused about why we were suddenly focusing on him a bit more than when we met him, but his character really was an interesting addition to the series. I understand the importance of including a spackle's input, but I just want to say… eff you, 1017. ('cept I'm not saying eff.)
MY RATING: 
4.25 stars (out of 5), because even though I had a few problems, I really do love Todd and Viola.
~ ~ ~
My Other Reviews:
Chaos Walking #1: The Knife of Never Letting Go
Chaos Walking #2: The Ask and The Answer
---
You can also be my friend on Goodreads!
Happy reading, everyone! 😀 (And Happy almost-December!)