Critics hate it. Fans love it. Me? I'm somewhere down the middle.
So here goes my first movie review!
Okay, so maybe I was wrong: fans don't exactly love it. Generally, the long-time Harry Potter fans are okay with this movie, just like me. It was good, but not great.
Here are some spoiler-free observations, just for you:

Newt requires at least one (1) hug at all times

 

Grindelwald has, in fact, done many crimes
Magic is still cool
Baby nifflers will 100% steal your heart

 

There is a HUGE twist at the end (and if you think too hard about it, everything is not okay. If you think EVEN HARDER about it, it's okay, it's all good. You'll see.)

 

SPOILER SECTION
Step away from your screen now if you a) haven't seen the movie, and/or b) don't want to be spoiled by my review and opinions 
Despite what anyone believes about Johnny Depp, I'm writing this review because I love the Wizarding World, and I am not critiquing the actors themselves on their backgrounds or acting skills.
Alright, now all that's out of the way, we can get down to business.
MY INITIAL THOUGHTS: 
✦ I was initially so excited to be "going back to Hogwarts" and seeing Dumbledore with young Newt!
✦ I was also really wondering about how Dumbledore's connection with Grindelwald was going to be explained. After watching the movie, there's still so much more to discuss.
✦ I really wanted to continue with the whole "protect Credence Barbone" fan thing, but this movie ruined it. He no longer needs protection.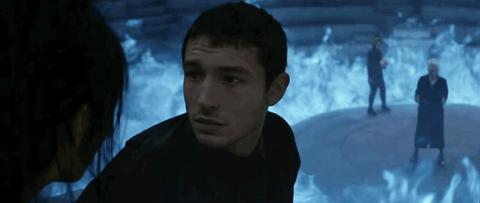 THE GOOD: 
✦ Young Newt and young Leta Lestrange! I loved learning about their friendship and everything that Leta went through as a child.
✦ Dumbledore! I feel like we're beginning to get to the bottom of why his character is so morally gray. We're getting answers (but not enough).
✦ Nifflers! Baby nifflers!
✦ There are a lot of references to the original Harry Potter stories, but also some new Wizarding World concepts. Which can be good, in some ways.
✦ More characters were introduced?
✦ I'm running out of good things. This movie was just… okay. I could see it again.
THE BAD: 
✦ When a movie cares more about special effects than the character development, I don't like it. But that's obviously what this movie was going for. Where is the JKR we used to know? 
✦ THAT ENDING. What does it mean? Is Credence really Dumbledore's brother? Because if that's how the story goes, the math doesn't add up. Not only is it really weird that Credence is about 27 years younger than Albus Dumbledore, but Dumbledore's mother also died around 1899, and Credence would have been born in 1901 according to the screenplay which is actually false because Ezra Miller previously stated that Credence should still be a teen in 1927, but whatever. (I've heard some theories that Credence is Aberforth's son, and that makes more sense, but is still unsettling. I do not choose to accept what has been given to us.)
✦ Despite The Cursed Child's attempt to convince us that not all Slytherins are bad, Leta Lestrange, yet another Slytherin, makes it very clear that she doesn't consider herself a good person at all. And she's pretty much right.
✦ Why does it seem like Newt is no longer the protagonist? He barely got any screen time or character development. Isn't this supposed to be about his Fantastic Beasts? Why are the beasts not in the spotlight anymore?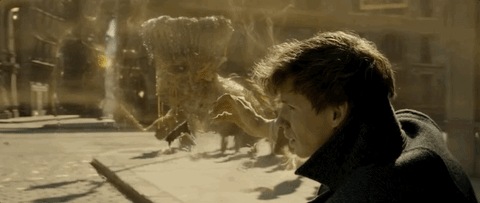 ✦ Grindelwald is straight up creepy, and literally kills people for no reason. His intentions are not very clear. What exactly does he want?
✦ QUEENIE. What exactly does she want? I don't think her intentions were completely clear, either. (Although I'm pretty sure she was under some kind of magical influence, I still think that shouldn't have happened.) How are we going to get her back from the dark side? 
✦ I'm still confused about the whole Graves/Grindelwald thing? Where is the real Graves, and why did "Graves" act so nice to Credence? (Maybe it's just because Grindelwald didn't want to scare Credence away?)
✦ I also wanted to see more of Newt's relationship with his brother. How exactly do they feel about each other? Why did Leta go for Newt's brother so quickly? So confusing. 
✦ Honestly, I still have a lot of questions.
THE SOMEWHERE IN-BETWEEN: 
✦ Newt needed more screen time. While his character was good overall, he didn't really feel like the protagonist or main character in this one. On the contrary…
✦ Credence got more character development than Newt. Give me more Newt. 
✦ I just want Queenie and Jacob to be happy.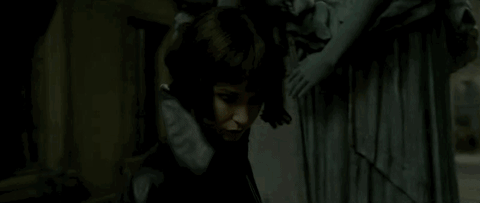 ✦ I also want Newt and Tina to be happy. (My mom was confused about Newt's relationship with Tina, because she thought there was "no chemistry between them". Give me more Newtina.)
FINAL RATING:

3.6 stars (out of 5)
Did this movie "kill" the franchise? In my opinion, no, not really. It could have been way better, though.
Will I still go out and see the next Fantastic Beasts movie? Absolutely.
---