Hey, everyone! Happy Tag Thursday!
I was tagged to do this one by Mikki from mikkireadsbooks! You should go check out her blog 🙂 Thanks for tagging me!
(The original creator of this tag is Darker Side of Whitney from YouTube.)
Now, grab a snack and let the show begin.
---

~~~
1. Recently Watched: What is the last book you finished reading?
I really enjoyed Radio Silence, and I should have the review up soon!
2. Top Picks: A book/books that have been recommended to you based on book you have previously read.
Well…
I'm not sure. And I don't really remember.
I'm usually the one doing the recommending!
3. Recently Added: What is the last book you bought?
and you can also read all about my excitement upon this book's arrival 😉
4. Popular on Netflix: Books that everyone knows about.  (2 you've read and 2 you have read or have no interest in reading)
I've read:
(Yes, I'm aware these are very basic answers, but hey, that's because pretty much everyone has read them!)
Have no interest in:
I have tried both of these, and I am willing to try them again (because I own them). Just probably not any time soon.
5. Comedies: A funny book.
It was funny when I read it a few years ago!
(I mean, yeah, it's sad… but also funny.)
6. Dramas: A character who is a drama queen/king.
I'm gonna be really basic again and go with…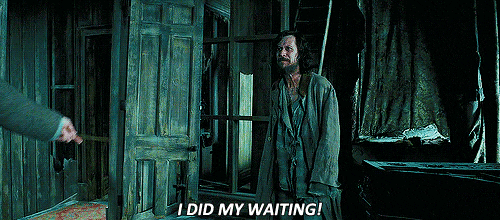 Sirius Black.
7. Animated: A book with cartoons on the cover.
What kind of cartoon?
I like Through the Woods 🙂 It's a graphic novel!
8. Watch it again: A book/book series that you want to re-read.
9. Documentaries: A non-fiction book you'd recommend to everyone.
I haven't read many nonfiction books, but….
The Diary of Anne Frank. 
10. Action and Adventure: An action packed book.
I don't really read action books, so…
I also don't really suggest The 5th Wave, but you do you.
11. New Releases: A book that just came out or will be coming out soon that you can't wait to read.
I've been meaning to pick up Sadie for a while, but I just haven't gotten around to it.
12.  Max: Tag some people!
You don't have to do it if you don't want to… but it's fun! 🙂
And I tag you! 😀
---
You can also be my friend on Goodreads!
🍁 Happy reading, everyone! Stay warm! (or cold; however you like it.) 🍁