Here's a little story: When I finished this book, I sat at my computer debating on 4 or 4.5 stars. And I wondered why everyone was giving this book 5 stars. I felt guilty. Was something wrong with me? BUT THEN, it hit me.
This book deserves 5 stars because I would have absolutely loved it as a kid.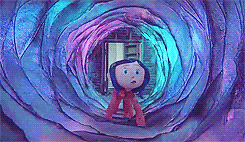 ---
Sorry, there are some spoilers in this review! 

SYNOPSIS: 
From Goodreads, because I'm lazy today: 
The day after they moved in, Coraline went exploring….
In Coraline's family's new flat are twenty-one windows and fourteen doors. Thirteen of the doors open and close.
The fourteenth is locked, and on the other side is only a brick wall, until the day Coraline unlocks the door to find a passage to another flat in another house just like her own.
Only it's different.
At first, things seem marvelous in the other flat. The food is better. The toy box is filled with wind-up angels that flutter around the bedroom…. But there's another mother, and another father, and they want Coraline to stay with them and be their little girl. They want to change her and never let her go.
MY RATING: 
"When you're scared, but you still do it anyway… that's brave."
I would normally rate it 4 stars because it was kind of short for me. But since I'm way past the target audience, this wouldn't be fair. Officially, I'm giving it 5 stars for every kid out there who needs an elementary-age creepy book. This one is for you!
Maybe the movie ruined it for me? Which is not my fault, but the way: I first watched this movie back before I even liked to read. I think I was 9?
And I didn't want to be one of those people, but I think Wyborn's character seriously added to the movie. Without anyone her age, Coraline herself just felt very sad and lonely. Kind of lost. I felt really bad for her, but I feel like her character could have been fleshed out a bit more.
And the doll thing from the movie? It wasn't in the book! I'm not sad, necessarily, but that was a pretty cool/creepy addition that I relayed liked in the movie.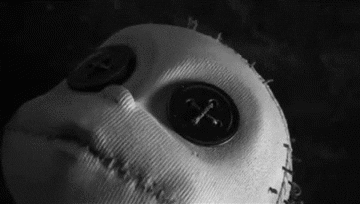 As I neared the end of the audiobook, I found that the last two chapters were my favorite. Why? Because in those chapters, which are set after Coraline escapes the Beldam, there are insights and little scenes that didn't make it into the movie. After these chapters, I decided that it was unfair of me to compare the book to the adaptation. I would have loved the book so much more if I had read it first!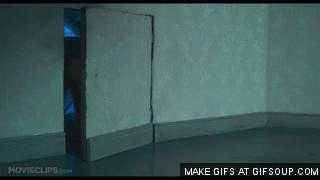 But you know what? This made me appreciate the movie even more. It's not every day you get a pretty accurate book adaptation!
In the end, I'm glad I finally got to read Coraline. It was a fun, and slightly creepy experience. Exactly what I wanted!
---
🎃🎃  Happy Halloween, everyone! Stay spooky for tonight, and if you have any candy, may your stomach be content. 🎃🎃
---
You can also be my friend on Goodreads! 😉 Happy reading!