It's that time again! Time to open another Uppercase box!*
---
What is Uppercase? 
I completely forgot to explain the idea of Uppercase in my first unboxing post!
Uppercase is a monthly YA book subscription "box" which includes a signed first edition of a new YA book of the month! Subscriptions can be priced at either $13.99 (just the signed book) or $23 (the signed book and several other exclusive bookish items relating to the book's theme) a month, and you can cancel at any time. You will receive your "box" on every 15th day of the month.
(I'm opening this box 2 days after the arrival date, October 15th. If you're still waiting to open your box or for whatever other reason do not want to get a spoiler about what's inside, you don't have to continue reading!)
OCTOBER UPPERCASE BOX: What's inside? 
This is my second box, so I know the drill. Of course, the bag (not actual box) is still cute!
And here's what was inside the bag!:
a red-and-gold hat which looks like a Gryffindor hat, but is probably not because it says "EX LIBRIS" (which is a Latin phrase commonly used to indicate who a book belongs to, I think)
a pair of cute swan earrings… (which immediately told me which book it was going to be!)
some really cute stickers!! A niffler with a crown and an occamy with a book (from the Fantastic Beasts series!)
a hand-written letter from the author, explaining that she just had a family event and could not personalize the letter as she normally would have
and of course… the book!
Look at how adorable these stickers are.
Look at them!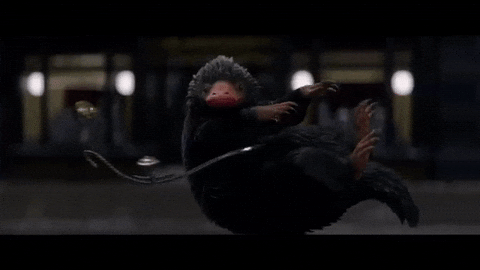 And now…
The book reveal!
---
Blanca & Roja, by Anna-Marie McLemore 
I've heard mixed reviews about this book, but I'm still excited to try it! Unfortunately, I probably won't have time to read and review it until December… but we'll see how that goes! 🙂
Either way, I'm glad I got this book!
And it was signed!
Here's everything inside the bag! 
---
*Once again, Uppercase did not pay me to write this review, and they certainly did not send me the box for free! I just paid for it myself!
Thanks for joining me on this unboxing experience!
You can also be my friend on Goodreads, if you wish! Happy reading!
---
RELATED POSTS: